Good afternoon everyone!! We know it has been a little while since you have heard from us so…
What's Happenin?
As we all continue to learn and trust our BPR processes and PathOS, we want you to see the progress we are making -- completing backlog and non-lobby work is positively impacting on our lobbies.
PathOS: Every day our Field services leadership team meets to discuss how many staff are available in each office to ensure we have adequately covered our interviews, lobbies, and tracks in PathOS. Based upon the staff available, we can calculate how many tasks we can complete daily which looked like this on Friday afternoon (3/15/19):

We love exceeding our daily goals! This means we are staying current by serving our customers and completing additional cases/tasks which will decrease the wait time for our customers.
Backlog: We appreciate those of you who have taken advantage of overtime to focus on the backlog- We are targeting to be out of backlog by April 30, 2019 and we need your assistance to meet this goal. Please consider working a few hours on the upcoming holiday (March 25) and/or during one or two weekends between now and April 30th. We are making great progress: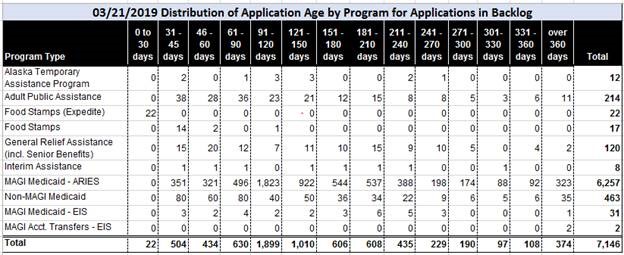 On February 25, 2019 our total was 10,860 and yesterday (March 21) it is down to 7,146!!
Thank you for being flexible when you are asked to switch tracks or move from lobby to a non-lobby assignment. We are working smarter. THANK YOU!
Sincerely,
Tammie and Aimee